5 of the best luxury and novelty pool tables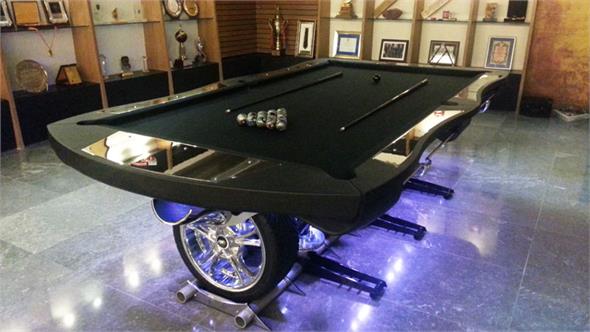 You might suddenly have a lot of free space in your house if you've recently moved into a bigger house or the kids have moved out. If this is the case, you might be wondering what to do with that free space, and may even be considering turning that free space into a games room or even just somewhere to put a pool table so you can have a bit of fun, rather than a full games room complete with arcades and everything else that traditionally goes into such a room.
So for a list of the 5 best luxury and novelty pool tables, read on for some of the best choices that are available to liven up your games room or just to add to the house in general.
Mini Cooper Pool Table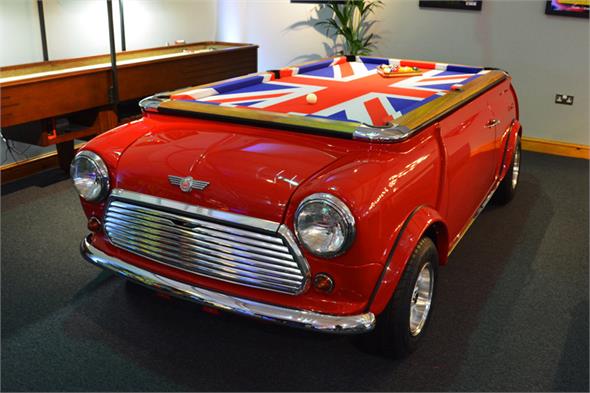 Everyone loves the Mini Cooper; it's an iconic symbol of pure Britishness and a fantastic car to boot. Plus it also makes a great pool table base as well. Made from a real Mini Cooper 1984 Mini "City", this Mini Cooper pool table makes a fantastic centrepiece for a new games room, plus it's kitted out with a tournament-grade slate bed, allowing you to play both English and American pool whenever you fancy.
Hurricane Automaniac Pool Table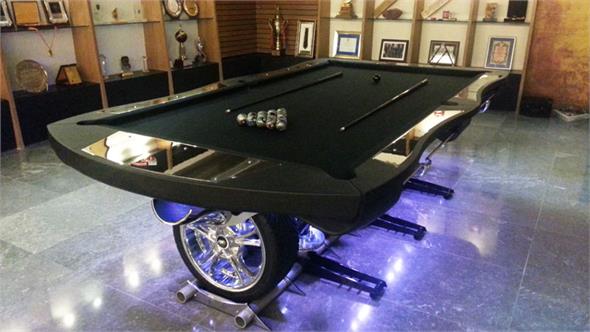 Continuing on with the car theme comes the Hurricane Automaniac Pool Table, with a sleek look and tires incorporated into the design. Optional under-table lighting just adds to an absolutely stunning appearance already, making this novelty luxury pool table a great addition to a games room owned by a petrol head.
Hurricane Predator Luxury Pool Table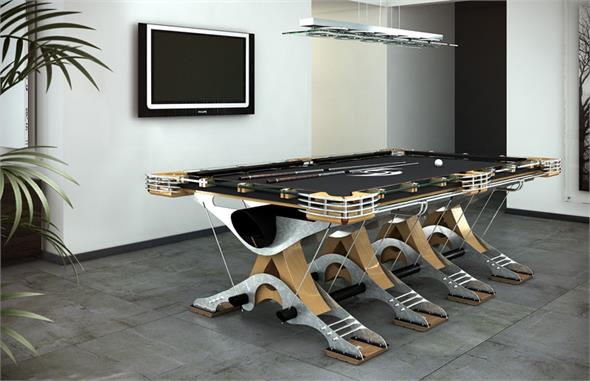 Another luxury pool table from Hurricane, the Hurricane Predator pool table will make a great addition to your games room or house in general if you don't have a dedicated games room. With a highly engineered look and feel to it, the Hurricane will certainly stand out from the rest of the pool tables and add a touch of elegance to your playing space as well as functioning as both pool table and modern art piece.
G7 Mode Pool Table
If you've got a minimalist design house, then the perfect pool table for you is the G7 Mode Pool Table. With an elegant glass frame and an aesthetically pleasing steel structure as well, this is sure to add a fashion statement to your games room or home. Just be sure to take care of it and polish it regularly as you won't want fingerprints or similar on this table!
Designer Billiards Apex Solid Aluminium Pool Table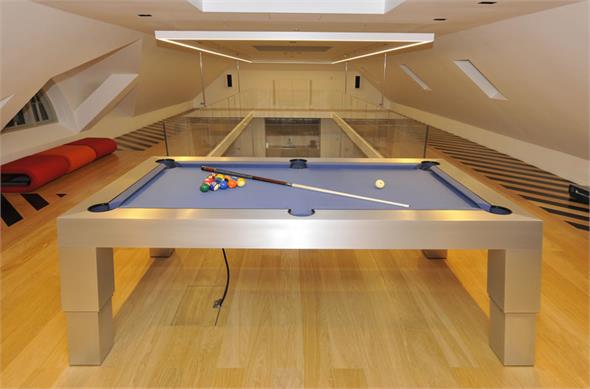 And last on our list is the Designer Billiards Apex Pneumatic Aluminium Pool Table, which may look like a fairly normal pool table, but it does have one addition that pushes it firmly into the novelty and luxury categories. Push a discreet button on the side of it and it converts from a pool table into a coffee table by lowering its legs, or vice versa. This certainly makes it a luxury pool table that you can use to impress friends and other guests, plus it makes it highly versatile to use.
So there you have it, five luxury and novelty pool tables that you can add to your games room or house in general. If you know of any other funky pool tables that aren't your standard design pool table, we'd like to hear in the comments below!
Progress for EV's: Why the Future of Motoring Will be Electric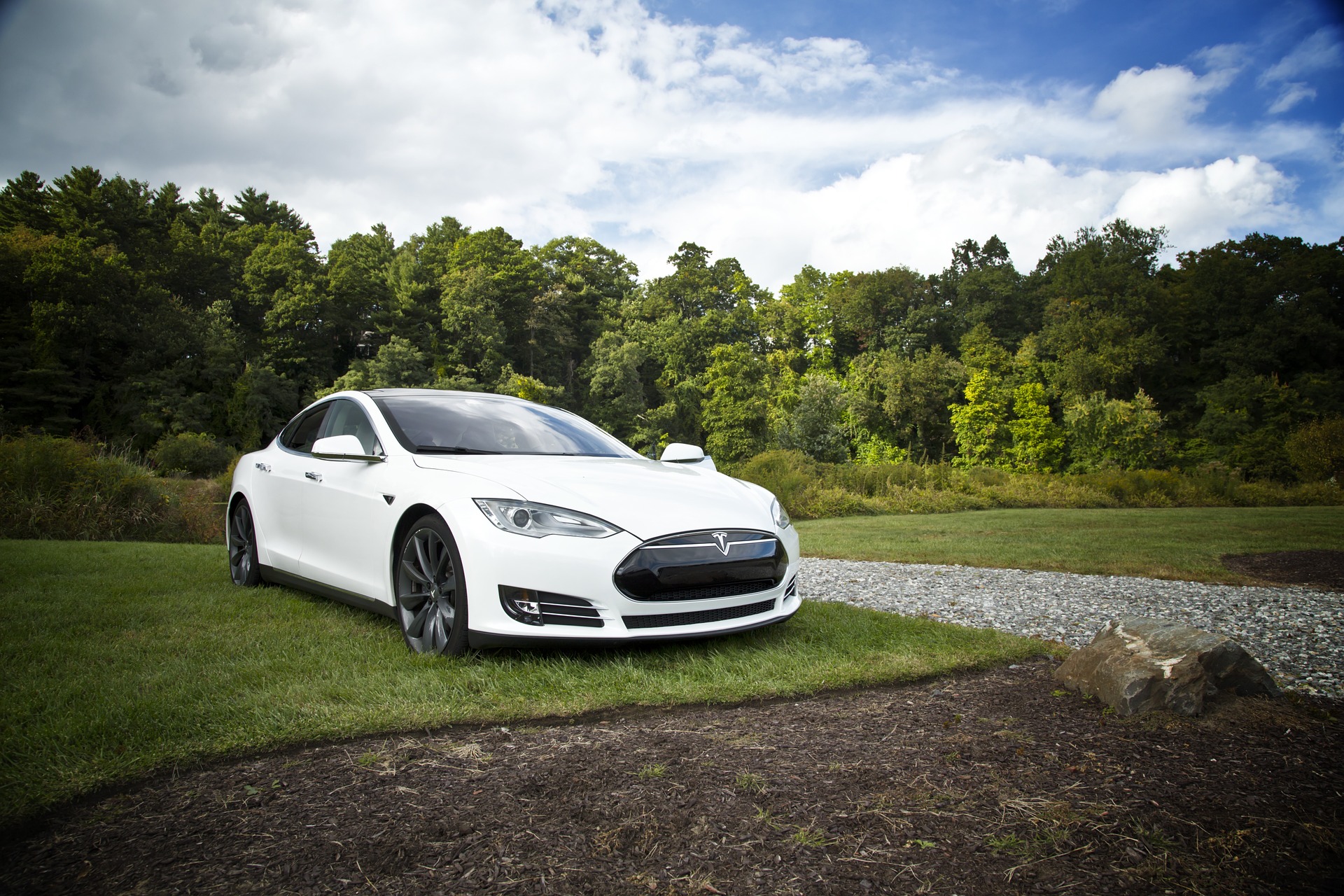 With today's consumers becoming increasingly eco-aware, it stands to reason that the market for electric vehicles has been undergoing substantial growth over the past few years. Automotive manufacturers all over the world have been adapting their current offerings to keep up with the demand; data shows that the number of new EV registrations hit record highs last year and this figure is expected to increase yet again in 2019. Manufacturers are constantly developing the latest technologies, with many hoping to work towards a cleaner and greener future for their vehicles. Here, we explore how the EV market has been developing and take a look at what new advancements we can expect to see in the near future.
Electric vehicles are becoming increasingly widespread, with many well-established manufacturers working towards their development. Earlier this year, car enthusiasts across the world were shocked by the news of the new Lamborghini electric sports car concept, the Terzo Millennio, which has been dubbed as 'the sports car of the future'. Jaguar and Land Rover are late comers to the electric vehicle market, only recently introducing their first all-electric vehicle, the Jaguar I-Pace concept. But that hasn't stopped them from pulling out all the stops to catch up, by announcing that they plan to be all electric by 2020 – a big step into the EV industry for new comers.
On a similar note, Volvo also plan to unveil their own electric vehicle range next year. The prestige brand promises that all new models produced and registered from 2020 will be fully electric or hybrid – and that their customers will have more choice moving forward. It was revealed recently that Jaguar Land Rover plan to open an EV manufacturing factory in the UK. The new car plant would be similar to the Nissan factory in Sunderland and would increase the production of new electric vehicles. Whilst it is not confirmed, the plan is a big step towards the brand committing to their EV plan.
Nissan have been a key player in the EV market for a number of years already. They are the brains behind the second most popular electric model in retail, and the bestselling all electric model in the UK, the Nissan Leaf – with over 30,500 units sold in the UK, and over 300,000 units worldwide. And with the launch of its newest model, could the Leaf take the top spot? The new model has a battery mileage range that is double the range of its previous models. An issue that was apparent for all manufacturers, not just Nissan.
The manufacturer has been making some serious progress in adapting their current range. The 2011 Nissan Leaf had a range of just 75 miles, but progress in the industry has since taken huge leaps towards its new 235 mile range – progress that could be intrinsic to the future success of the model, and for the industry. Additionally, they also fitted the first one pedal driving system – an optional system that allows you to transform the accelerator into an e-pedal to function as a start, stop, accelerate and brake pedal.
So, with key industry players driving the success of the EV market and responding to consumer demand, we can expect to see an increasing number of eco-friendly vehicles on our roads over the coming years. Drivers have realised the harmful effects of their petrol and diesel automobiles, and the government's plans to improve air quality are underway. In addition, consumers all over the UK have been trading in their old cars for greener alternatives. To survive the transition, now is the time to come up with an electric vehicle plan. For automotive manufacturers, they need to get their head in the EV game to survive the market.