5 of the best luxury and novelty pool tables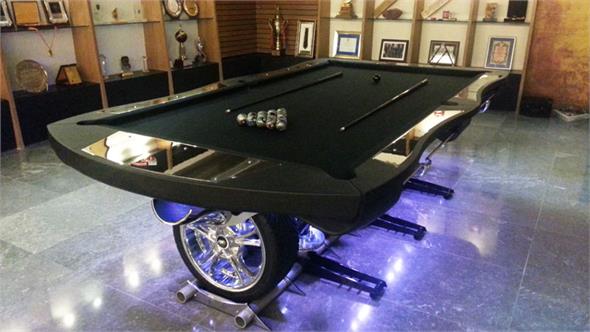 You might suddenly have a lot of free space in your house if you've recently moved into a bigger house or the kids have moved out. If this is the case, you might be wondering what to do with that free space, and may even be considering turning that free space into a games room or even just somewhere to put a pool table so you can have a bit of fun, rather than a full games room complete with arcades and everything else that traditionally goes into such a room.
So for a list of the 5 best luxury and novelty pool tables, read on for some of the best choices that are available to liven up your games room or just to add to the house in general.
Mini Cooper Pool Table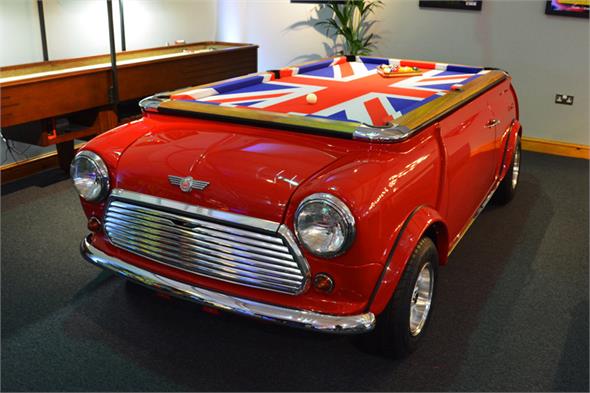 Everyone loves the Mini Cooper; it's an iconic symbol of pure Britishness and a fantastic car to boot. Plus it also makes a great pool table base as well. Made from a real Mini Cooper 1984 Mini "City", this Mini Cooper pool table makes a fantastic centrepiece for a new games room, plus it's kitted out with a tournament-grade slate bed, allowing you to play both English and American pool whenever you fancy.
Hurricane Automaniac Pool Table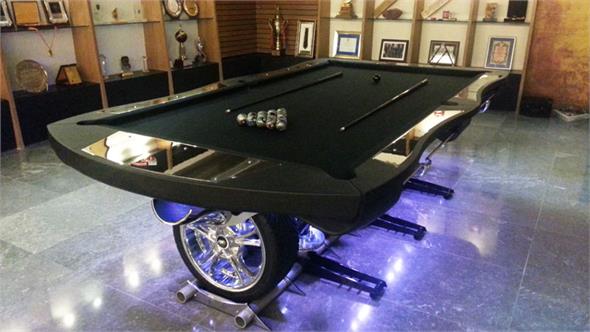 Continuing on with the car theme comes the Hurricane Automaniac Pool Table, with a sleek look and tires incorporated into the design. Optional under-table lighting just adds to an absolutely stunning appearance already, making this novelty luxury pool table a great addition to a games room owned by a petrol head.
Hurricane Predator Luxury Pool Table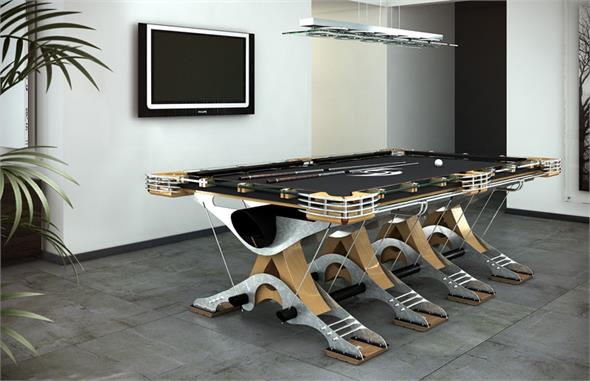 Another luxury pool table from Hurricane, the Hurricane Predator pool table will make a great addition to your games room or house in general if you don't have a dedicated games room. With a highly engineered look and feel to it, the Hurricane will certainly stand out from the rest of the pool tables and add a touch of elegance to your playing space as well as functioning as both pool table and modern art piece.
G7 Mode Pool Table
If you've got a minimalist design house, then the perfect pool table for you is the G7 Mode Pool Table. With an elegant glass frame and an aesthetically pleasing steel structure as well, this is sure to add a fashion statement to your games room or home. Just be sure to take care of it and polish it regularly as you won't want fingerprints or similar on this table!
Designer Billiards Apex Solid Aluminium Pool Table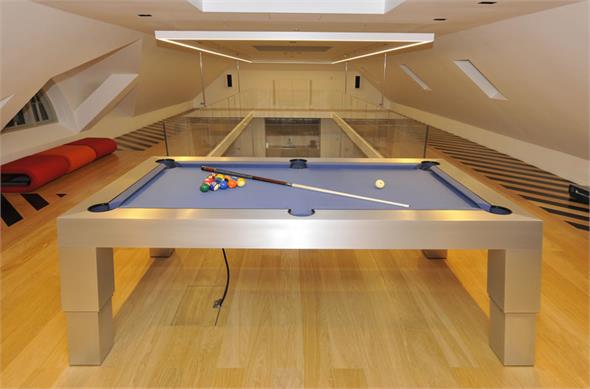 And last on our list is the Designer Billiards Apex Pneumatic Aluminium Pool Table, which may look like a fairly normal pool table, but it does have one addition that pushes it firmly into the novelty and luxury categories. Push a discreet button on the side of it and it converts from a pool table into a coffee table by lowering its legs, or vice versa. This certainly makes it a luxury pool table that you can use to impress friends and other guests, plus it makes it highly versatile to use.
So there you have it, five luxury and novelty pool tables that you can add to your games room or house in general. If you know of any other funky pool tables that aren't your standard design pool table, we'd like to hear in the comments below!
What Are Foundation Degrees? All About Foundation Degrees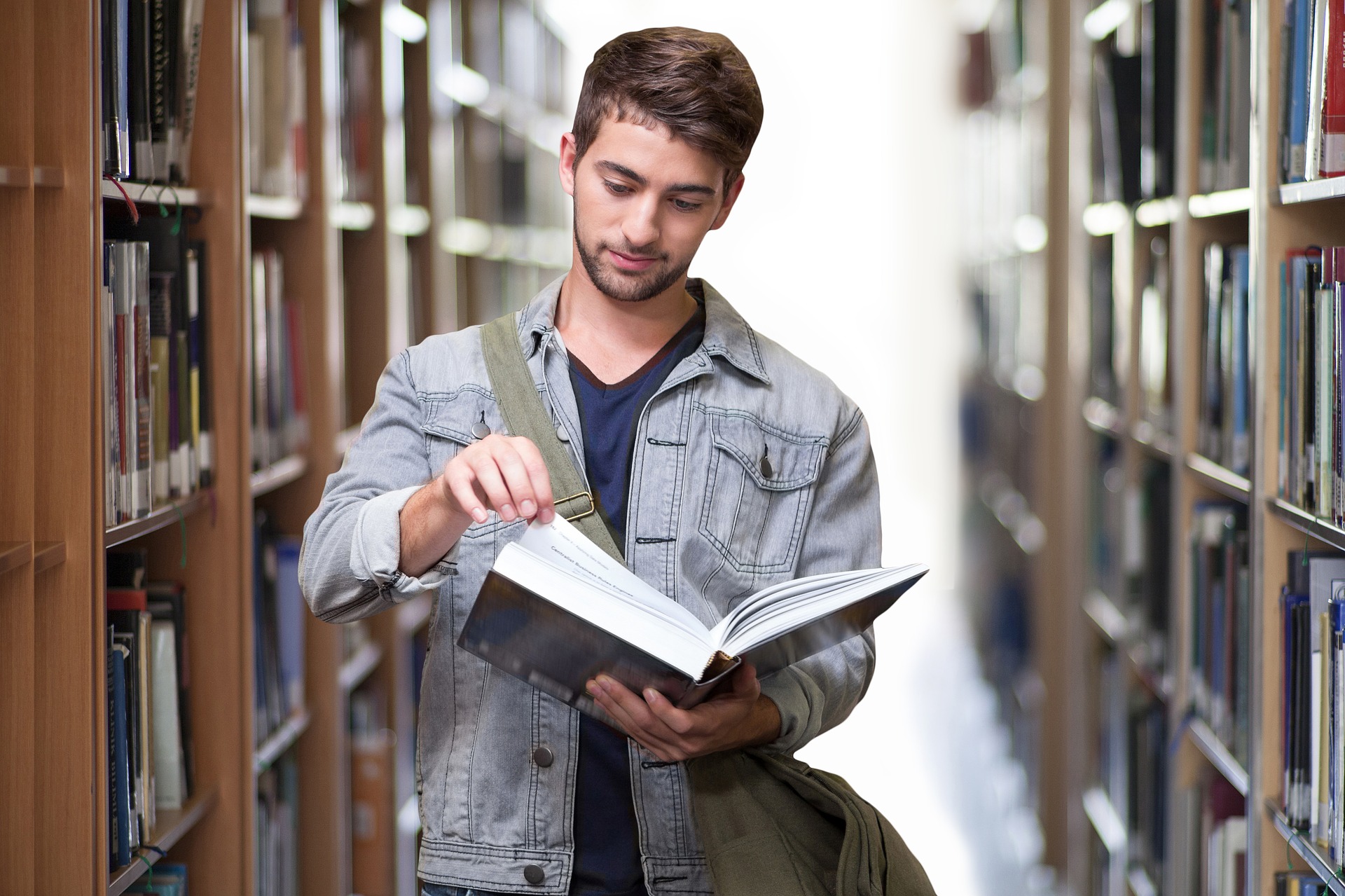 Foundation degrees are professional degrees that are available to those who have not completed the traditional requirements of formal education and therefore cannot gain access to a formal professional program.
As the economy is continuously evolving and more people are finding ways to balance both work and regular responsibilities with education and professional development, these types of courses are becoming increasingly affordable.
Foundation programs serve as an intermediate that provides individuals with the education they need without going into too much detail or rigor as a full and comprehensive program. There are a variety of reasons why some people may wish to choose a foundation course in Canada when considering their education options.
The usefulness of a foundation degree can be tremendous to those who have chosen a life of working as opposed to a life of academia. Most people are confronted with the choice of education or work when they enter their adult years and the combination of both is unlikely. Most people specialize either in education or in working and this becomes the decision that impacts their life significantly. In the past, education and work have been kept mostly separate but foundational degrees are quickly changing this.
Suppose someone with 20 years' of experience of working in an industry wants to further their knowledge on professional development but does not have the 8 years to spend on regular education all the way through to a master's program to cover these main issues. Furthermore, the specialization in working over learning is going to take away a lot of momentum in one or the other to overcome this challenge. This is where foundational courses are going to serve their value.
Foundation programs typically cover the main essential points that are included in masters programs without going into too much detail or specifics. The advantages are that this saves a lot of time and resources while at the same time providing the basic elements of knowledge in the field.
The strict divide that has traditionally been kept between working and education is slowly vanishing from existence as time goes on. More and more programs are being developed to meet the needs of people and fit their schedules and this is where foundation courses come into play. These types of courses serve as a strong foundational basis for anyone looking to expand their formal and professional knowledge and development while at the same time not investing heavily in education which provides the best balance between both options.