World's Best Street Food
You are here: Home / Cool Stories / World's Best Street Food
World's Best Street Food
Street cooks are magicians: With little more than a cart and a griddle, mortar, or deep-fryer, they conjure up not just a delicious snack or meal but the very essence of a place. Bite into a banh mi—the classic Vietnamese sandwich of grilled pork and pickled vegetables encased in a French baguette—and you taste Saigon: traditional Asia tinged with European colonialism. What better proves the culinary genius of Tuscany than the elevation of a humble ingredient like tripe into a swoon-worthy snack? To sample merguez sausage in Marrakesh's central square is to join a daily ritual that has persisted for centuries.
Sadly, street food has acquired a reputation as a potential trip-wrecker, which means too many travelers leave, say, Singapore without having a steaming bowl of fish head curry or a few skewers of saté. No one wants to get sick, but avoiding street food means denying yourself an essential part of the travel experience. So peruse our list of some of the world's best street food vendors, and don't be afraid to try something new. But pack a little Pepto—just in case.
The dish: Banh mi
Where to find the best: Ho Chi Minh City, Vietnam
Word on the street: It takes almost no time for the peddler who sets up her tiny cart and knee-high charcoal brazier every weekday at 5 pm at 37 Nguyen Trai Street (in District 1) to turn you into a banh mi lover. As soon as you order, she swiftly assembles a sandwich that, despite its colonial French exterior (a stubby baguettelike loaf), is Vietnamese through and through. Peel back the newspaper wrapper and bite: Your teeth crash through the bread (a touch of rice flour makes it exceptionally crispy) and into still-warm morsels of grilled pork, a crunchy spear of cucumber, sweet-tangy shreds of pickled carrot and daikon, cilantro, and a smear of Vietnamese mayo. Add a squirt of hot sauce, and this might be the best sandwich you've ever had. Or at least the best one you've ever had for 30 cents.
The dish: Tacos
Where to find the best: San Miguel de Allende, Mexico
Word on the street: The taco is made for snackers on the move, the invention, supposedly, of itinerant Mexican cowboys who relished the convenience of an edible plate. Given its modest origins, it's no surprise that when connoisseurs nominate their favorite taco spots, they're more likely to name street corners than proper restaurants. This is especially true in San Miguel de Allende, an artsy colonial city about four hours north of the capital. At night, when the expats and tourists are headed home from their fancy dinners, street vendors are just warming up their griddles. The best taco peddler sets up on the corner of Calle de Mesones and Pepe Llanos, just a short walk from the main square (look for the floodlights illuminating a mass of happy people gathered around a cart). Order up a few tacos al pastor, and watch as one of the cooks carves off some hunks from a block of red-tinged pork cooking on a vertical spit, presses them into a double layer of delicate corn tortillas—each no larger than a CD—and splashes it with an exhilaratingly tart and salty pineapple salsa. Just a few bites obliterate each taco, leaving behind a slick of sauce and grease on your hands and lips. Pity the sleeping gringos.
The dish: Tripe sandwiches
Where to find the best: Florence, Italy
Word on the street: Florentines adore their traditional peasant dishes, shining examples of how Tuscan ingenuity can transform even the humblest ingredients into the sublime. Take tripe, for instance: Even if you're not an avid consumer of cow stomach, when you're in Florence we urge you to close your eyes, take a bite, and become a convert. Florentines stew their tripe with garlic and aromatics until meltingly tender, then tuck it into a crusty roll and enliven it with either chile-laced red sauce or a zippy salsa verde made with capers, parsley, and anchovies. Everyone has a favorite spot, such as Civiltà  della Trippa, a stand in the northwest part of Florence, or the cart in the Piazzale di Porta Romana run by a seasonally inclined fellow who adds artichokes to his sandwiches during the spring. Before you know it, you'll be ordering yours bagnato—dipped in the tripe's cooking liquid—as many locals do.
The dish: Green papaya salad
Where to find the best: Bangkok, Thailand
Word on the street: It's a siren song for most Thais, the pop-pop-pop of shredded green papaya being bruised by a stone pestle. The sound signals the presence of som tam, a salad that showcases the quartet of flavors—salty, sweet, sour, and spicy—that epitomize Thai cuisine. Som tam is a tangle of crisp, unripe papaya, peanuts, and dried shrimp, tossed in a lip-tingling dressing of fish sauce, palm sugar, and lime juice, then crammed, to-go style, into a plastic bag. You'll find it all over Bangkok, but the quintessential version is found just off Phaholyothin Soi 7, a busy street in the Soi Ari neighborhood packed with vendors—seek out the cart whose window flaunts stacks of shredded papaya and tomatoes, plus a coiling bunch of long beans. More daring chowhounds should seek out the style of som tam popular in Isaan, Thailand's Northeastern region, where many think the dish originated. Stop by the open-air haunt called Foon Talop, in the Chatuchak Weekend Market, where the salad is made with pla ra, a supremely funky, murky fish sauce whose flavor you won't soon forget.
The dish: Currywurst
Where to find the best: Berlin, Germany
Word on the street: Germany has perhaps as many sausages as France has cheeses, so naturally, Berlin's favorite street treat involves Wurst. But currywurst is no New York–style hot dog: A dense, juicy 13″ sausage cut into chunks, it lounges in a puddle of ketchup spiked with curry powder and paprika. The lovably odd, decidedly local snack was the creation, legend has it, of a clumsy Wurst peddler who dropped the containers of ketchup and curry powder that she was carrying and licked the fortuitously tasty spillage from her fingers. In any case, the snack mirrors modern Berlin: traditional yet cosmopolitan, and perfect for a long night of carousing. The best of the Wurst spots make their own sauce, including the exalted Krasselt's in the Steglitz area and Konnopke's in Prenzlauer Berg. But wherever you end up ordering it, wash it down with a cold pint of Warsteiner.
The dish: Just about any Asian food you can imagine
Where to find the best: Singapore
Word on the street: Singapore is Asia's melting pot, populated by Chinese, Indonesians, Indians, and Malays—a culinary dream team that makes Singaporean street food the most diverse and celebrated on earth. And the safest: All sidewalk chefs here work in "hawker centers," little open-air venues where the government enforces its strict health codes. At the Old Airport Road Food Centre, you'll find Indian-style fish head curry bubbling away at one stand and Hainanese chicken rice—stuffed with scallions and ginger, poached, and served with sticky rice—at the next. The Matter Road Seafood Barbecue stall specializes in Singapore's celebrated chile crabs, which come slathered in a garlicky, fiery, prepare-to-get-messy paste. Toa Payoh Rojak deals only in rojak, an inspired salad of pineapple, cucumber, and other fruits and vegetables dressed in a bracing syrup made with tamarind and shrimp paste. Naturally, the plethora of options has inspired some serious connoisseurs, most famously K.F. Seetoh, whose Makansutra site is a well-respected guide to Singapore's best vendors.
The dish: Bhel puri
Where to find the best: Mumbai, India
Word on the street: It only makes sense that India, a continent-size country with five major religions and 16 official languages, would have countless beloved snacks. But the chaat (as they're known) of choice in the food-crazy city of Mumbai is bhel puri, a deceptively simple jumble of puffed rice, sev (tiny fried noodles), potato, red onion, and cilantro. Just before serving, the puri is ignited by a spicy tamarind chutney that not only rouses the palate but moistens the rice and sev to a texture that teeters between crunchy and soft. Chowpatty Beach, in Back Bay, is Mumbai's street food mecca and where you'll spoon up the city's best bhel puri to the soundtrack of wallahs loudly advertising their edible wares. They may tempt you to also try pav bhaji (Portuguese-style bread served with a butter-bombed mash of vegetables cooked in tomato paste) or kulfi, India's famous dense ice cream. Go for it—but be aware that Chowpatty is also known for being one of the less pristine spots in Mumbai. So for a taste of chaat with less risk of gastrointestinal distress, head about a mile north to the well-loved restaurant Swati Snacks, opposite Bhatia Hospital, which uses filtered water.
The dish: Frites
Where to find the best: Brussels, Belgium
Word on the street: Don't blame us when Brussels destroys your tolerance for soggy, limp, or otherwise lacking French fries. Fried potatoes here are no sidekick to a burger—they're the main event, sold in paper cones with a dollop of mayonnaise at little kiosks all over the city. Belgium claims—much to the frustration of the French—to have invented what we know as the French fry. The best frites stands, such as Frit' Flagey (in Place Flagey) or Maison Friterie Antoine (in Place Jourdan), use only Bintje potatoes—a local variety that seems born for the deep-fryer—and cook them twice in clean peanut oil or beef fat (horse fat, thankfully, is no longer used). The result is a batch of impossibly airy, crisp, surprisingly greaseless fries that—whether crowned with mayo, tartar sauce, pineapple-spiked ketchup, or any of the other ten or so sauces offered—will ruin you for the inadequate kind waiting for you back home.
The dish: Arepas
Where to find the best: Cartagena, Colombia
Word on the street: Colombia might be the only Latin American country where rice is more important than corn. But Colombians have a special place in their heart for the cornmeal cakes they call arepas. If you've never had the pleasure, imagine corn bread with a more delicate crumb that's been flattened into a pancake, filled with cheese or egg, and griddled or fried to form a brown, crispy crust. Each bite sends butter streaking down your chin and, for Colombians, inspires memories of abuela at the stove. For the best, fly down to Cartegena and seek out the Restaurante Club De Pesca in the Manga neighborhood. But you won't find them on the menu there—it's one of the fanciest places in town. Instead, head to the nearby soccer field, where a gaggle of ladies sell carimañolas (yuca fritters filled with ground beef), empanadas, and most importantly, those fabulous arepas.
The dish: Jerk pork and jerk chicken
Where to find the best: Ocho Rios, Jamaica
Word on the street: Jerk has changed quite a bit since its invention in the 17th century by the escaped slaves known as Maroons. These freedom fighters (and early gourmets) subsisted on wild boar while they were fighting the British, and to preserve the meat they rubbed it with a mixture of spices. Today, the aromatic blend has developed to include allspice, nutmeg, thyme, and Scotch bonnet chiles. But you see chicken more often than pork, and grills made from oil drums instead of traditional wood fires. That's why anyone visiting the North Coast resort town of Ocho Rios should take the quick 12-mile trip to the valley of Faith's Pen (about 12 miles south on Highway A3, just past the little town of St. Faith). Dozens of roadside stalls here serve perfect renditions of jerk pork loin (and chicken, if you insist). Smoke from the pimento wood intensifies the already-energetic spices and creates a tasty crust surrounding the juicy flesh. And you thought you'd find heaven on Jamaica's beaches!
The dish: Sheep's head
Where to find the best: Marrakesh, Morocco
Word on the street: During the day, Jemaa el-Fna, the main square of Marrakesh's medina, is flanked by juice carts and filled with covered stalls selling lamps, bags, and other crafts. But as the sun begins to set and the oppressive Saharan heat abates, these wares give way to edibles. Almost 100 open kitchens take over, their proprietors setting up lights and tables, and a haze of smoke hangs above the vast square. What's on the menu? Grilled merguez sausage, meat and vegetable brochettes of every variety, and pots of harira, the hearty lentil, chickpea, and vegetable soup that breaks the daily fast during Ramadan. But the street-food-lover's holy grail is the luscious meat scraped from a whole sheep's head and served with crusty Moroccan bread and sprinkled with a mixture of cumin and salt. It's a dish almost as thrilling as the surrounding scene, a stage crowded with busy cooks and happy diners as well as acrobats, snake charmers, and mystical musicians.
from: concierge.com
The Five Best Luxury Electric Vehicles on the Market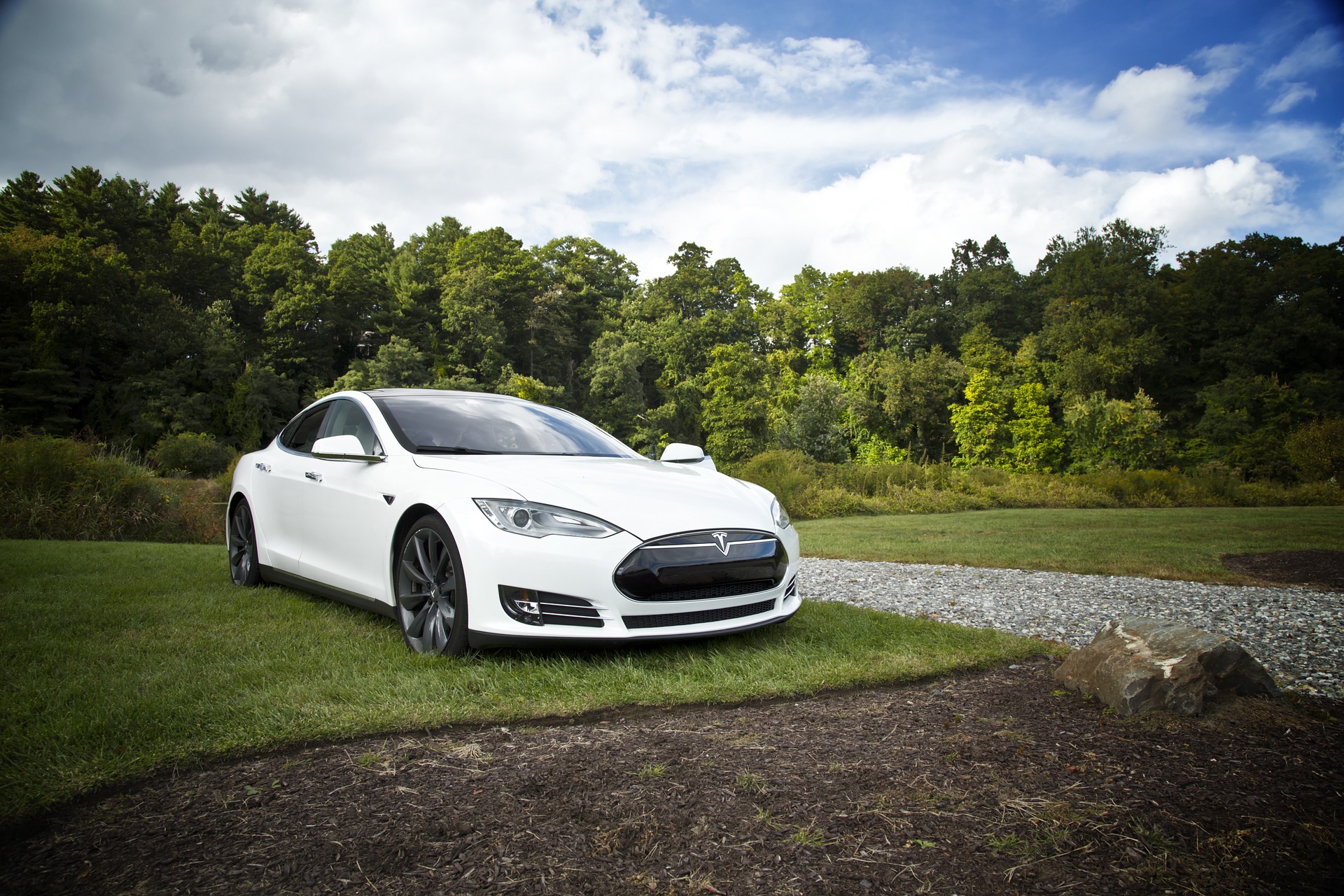 The electric vehicle market is growing rapidly. 2018 saw record numbers of new registrations in December alone, with over 65,000 EV's purchased. We normally associate electric vehicles with mid-range manufacturers such as Nissan, but luxury manufacturers are now entering the market themselves. Grange vehicles, who offer the stunning Jaguar E-Pace, are taking a look at five of the best luxury electric cars on the market today.
1) Tesla Model S
Tesla is a household name when it comes to EV's and the Model S is world famous. According to Tesla's official site, the company is 'accelerating the world's transition to sustainable energy. The Model S offers a hugely impressive 370-miles range and its Dual Motor All-Wheel Drive makes it a perfect drive in all weather conditions. Filled with an abundance of cutting-edge technology and an extremely spacious seating plan, this vehicle is the epitome of luxury.
2) Jaguar I-Pace
The Jaguar logo is instantly recognizable all over the world. Synonymous with great design, Jaguar is a brand that commands respect. Known for its power, the Jaguar may not be the first to roll off the tongue when you think about electric vehicles. However, the Jaguar I-Pace offers a superb 0-60mph in 4.5 seconds and offers up to 292 miles WLTP cycle. With amazing weight distribution, its electric motors deliver 696Nm of instant torque and sports car agility. The multi-award-winning model was named 2019 World Green Car and 2019 World Car Design of the Year at this year's World Car Awards. You can build the car to your own spec, or if you want a more budget-friendly model, a used Jaguar may be the better option.
3) Aston Martin Rapide E
The battery-powered Aston Martin Rapide E is perfect (if you have a spare £250,000)! Replacing the 552bhp 6.0-litre, V12 found in the engine bay of the Rapide S is a battery packing 800 volts and a 65khw capacity which will allow the equivalent of 602bhp. With a range of up to 310 miles, this car won't see you stuck as is so often the presumption (albeit it an archaic presumption). It will feature two electric motors which will drive a rear wheel each via an Xtract-developed transmission.
4) Range Rover P400e
Although the P400e isn't fully electric, the hybrid offers all of the benefits of an EV combined with the off-road abilities of Range Rover. It was first unveiled at the Los Angeles Auto Show last year. It can be driven in parallel hybrid mode, which combines both petrol and electric and is the default driving mode, or EV mode, which is perfect for zero emission journeys. It symbolizes the shift from petrol and diesel vehicles to electric, with Jaguar Land Rover to offer an electrified option by next year.
5) Porsche Taycan
In 2015, Porsche revealed it's first electric car concept, the Mission E but now the full production version has hit the dealerships. The Taycan is set to be a highly premium electric car that's set to rival Tesla's Model S. It's set to be unveiled at this year's Frankfurt Motor Show and is to lead the way for Porsche's attack on the electric vehicle sector, with the likes of the Macan to be transformed into a fully electric offering.
The Taycan's capabilities will see it able to reach 62mph in under 3.5 seconds and reach a maximum speed of 155mph. The move won't allow Porsche to lose its roots however, according to Oliver Blume, chairman of the Porsche executive board. He said: "We are resolutely taking on the challenge of electric mobility. Even with solely battery-powered sports cars, Porsche is remaining true to its philosophy and offering our customers the sportiest and technologically most sophisticated model in this market segment." The success of the electric vehicle market will undoubtedly revolutionize the automotive industry as a whole. Additionally, an increase in related services such as EV charging from suppliers such as Northern Powergrid  has meant that the market can continue to grow. It's clear that all car manufacturers, no matter what their status, have electric vehicles firmly in their sights. As the concept becomes more popular, prices will likely decrease and technology will continue to improve.