New Renault Kangoo Advertizing Campaign Featuring The Simpsons
You are here: Home / Celebrities / New Renault Kangoo Advertizing Campaign Featuring The Simpsons
New Renault Kangoo Advertizing Campaign Featuring The Simpsons
Though a few seasons of mismanagement and poor writing has made The Simpsons less relevant over here, they still seem to have enough pull in the European market to help Renault push some of its New Kangoos. We like the quirky looking MPV, so it doesn't offend us that Marge, Lisa, Bart, Homer and Maggie end up enjoying the features of the Kangoo. People gotta make change, even animated people, and most of them do it in other countries where no one will ever see.
NEW RENAULT KANGOO ADVERTISING CAMPAIGN FEATURING THE SIMPSONS
• An original partnership imagined by Publicis Conseil: 20th Century Fox L&M and Renault • An original ad campaign: the Simpsons leave the world of the series to explore the real world • New Renault Kangoo, the ultimate family car, can take anything – even the ultimate family – the Simpsons
20th Century Fox L&M, Renault and Publicis signed an agreement on September 19, 2007 on using the characters from "The Simpsons" to promote New Renault Kangoo. This is the first time Renault has worked with Fox L&M, one of the leading licensing and merchandising companies globally.
The tone of the campaign is thoroughly humorous, with the Simpsons subjecting New Renault Kangoo to a real "torture test" to highlight the car's feature qualities. Homer, Marge, Bart, Lisa, Maggie and grandfather Abraham Simpson leave Springfield and appear in the "real" world. They put New Kangoo through its paces, testing the vehicle's main qualities to the hilt. The folding rear bench, comfortable seats and ingenious storage bins are all put to serious use by the family.
Even more practical and comfortable, New Renault Kangoo embodies the best in family cars. Pairing it with the irreverent Simpsons brand shows Renault's desire to adopt a unique, offbeat tone while remaining faithful to its core values: human, reliable and enthusiastic.
The international Simpsons/New Renault Kangoo advertising campaign will be aired in 29 countries, starting in France on February 9.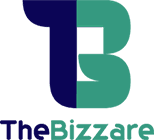 What Do I Need To Think About When Running An Event?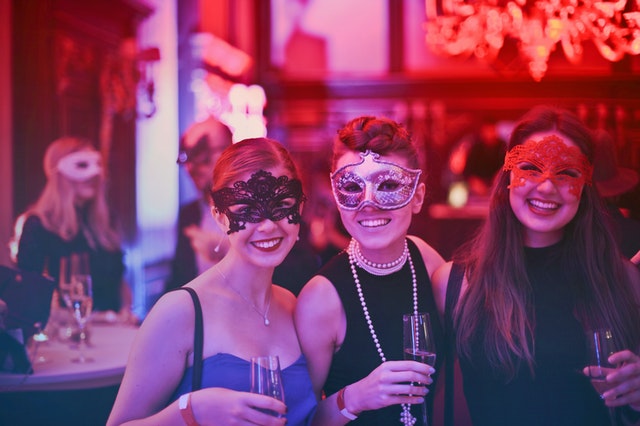 Whatever event it is, running included, that you are organising, you will need to think about those taking part as much as those attending. They will want to be provided for in terms of seating where applicable, food and drink to consume, and toilet facilities. With the last one in mind, there are websites who specialise in portaloo hire who can take care of that particular function.
Seating
When organising the seating for an event, you will need to consider that there are different kinds of seating arrangements, assuming that it is not an event where it is considered that people will stand to watch. Sometimes standing might be the best way to obtain a view. In the case of a wedding, seating will be particularly important. To consider the different types of seating we should define a few.
Banquet – Like a round dining table, audience is seated around a circumference.
Boardroom – With a large, elongated table.
Cabaret – Audience seated in an arc.
Classroom – Chairs and tables in consecutive straight rows.
Cocktail – A standing space with no chairs or tables.
Herringbone – Chairs and tables angled inwards.
Hollow Square – Chairs and tables arranged as four squares with no open end.
Lounge Zone – Clusters of sofas, chairs, coffee tables, ottomans, and bar tables, to fill a space. 
Theatre – Chairs aligned in consecutive straight rows. Everybody will be looking in the same direction. This will maximise seating capacity.
U Shape/Horseshoe Shape – Chairs and tables arranged so whole configuration is left open-ended in a U Shape. Only chairs are used with Horseshoe Shape.
Food and Drink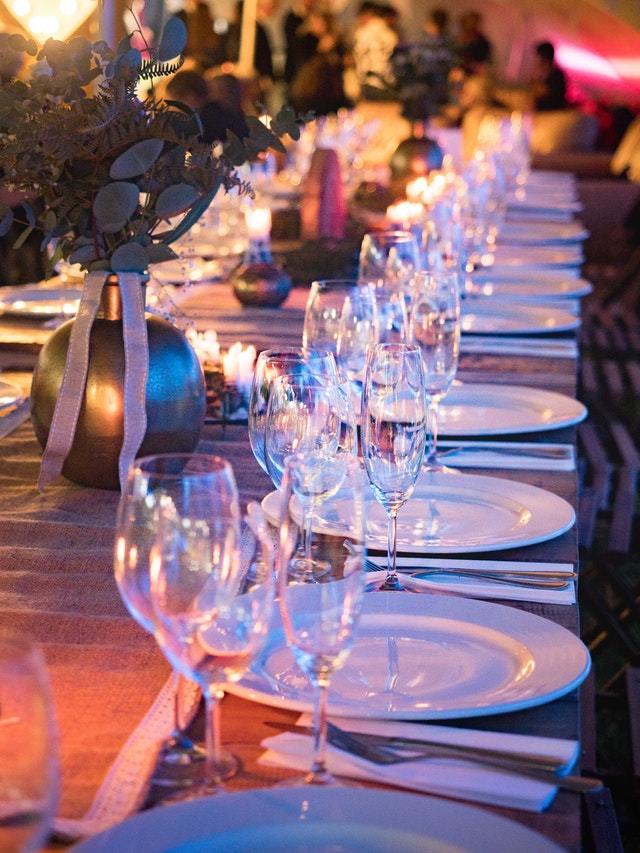 If you are on a budget, you will want to serve food such as baked potatoes, pasta, and sandwiches. Pizza is particularly popular among the young. Whether it is a snack or a more substantial meal you are likely to need facilities to keep the food warm until it can be served. It is important to consider, too, the various dietary requirements of today's society. For instance, vegetarianism or veganism. In addition, allergies such as those to nuts. Everything will need to be clearly labelled and not be mixed up or positioned close together. Raw meats will need to be separated from cooked meats. However, you will not need to worry about any of these if you have a catering firm organise this for you. Then, something that you will certainly need a specialist firm to organise for you will be the toileting arrangements for larger events. This may well be linked to the drinks provided. They will need to include both alcoholic, where it is to feel like a party, and non-alcoholic drinks, where there are drivers, or it is a family event.
Portable Toilets
When you are organising a large event, in fact any event, you will need to consider toileting facilities. The easiest way is to have temporary toilets and lots of them. Nobody wants to wait a long time to use them, so it is important to have enough of them to cater for all of the people attending the event, be it a running race or a large wedding. You will want this to be handled by a specialist firm who can deliver each portable toilet to you, empty them all periodically, and then take them away at the end of the day, or the next day. There are firms, as mentioned previously, that make this their business. In terms of yours, it will be another thing taken care of.
I hope that the above will be of use, and, in addition, I would like to also draw your attention to an article on marketing, which should prove useful when promoting your event.